04.16.2010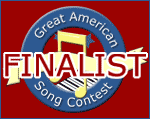 Oleg Tumanov is a finalist in the Great American Song Contest
Oleg's song "RIO" was chosen as a finalist in 11th Annual Great American Song Contest, a highly competitive event.
Great American Song Contest (Category INSTRUMENTAL)
You can listen to two different versions of "RIO" on the following links:
IN INSTRUMENTAL MOOD - guitar version
According to the Great American Song Contest jury, "This is an impressive composition in all respects. The melodic elements are expertly structured and usually engaging. It's really a pleasure to hear this quality of work."
Another of Oleg's compositions, the song "Dancing in the Wind," performed by vocalist Alaena Adams, received an "Excellent" rating. You can listen here:
Please, listen to The Song
---
04.15.2010
All albums are released and available on iTunes
---
From the composer:
I'm working on a few new album releases. I have been writing music in different styles over the past several years. Many of these songs and melodies have been on the shelf pending my new album release. As it often happens, everything has come together at once. Soon I will officially release the following new albums:
Last Love Tango. Although I call it lounge music, each song has a clear melody line, something you donít often find in modern lounge. The talented work of my arranging partner Sergey Erokhin can be heard in every song.
More Bananas. This is an album combining Caribbean and Cuban music. One of the songs features Carlos El Rumbero, one of the lead singers of the great world-renowned band "The Gypsy Kings." I hope that this album will take you away to a Caribbean beach where you can picture yourself with a cocktail enjoying the beauty of island life. I am grateful to producer Roberto Salaroli of Relight Orchestra for his work on this recording.
The Game. This CD features several songs written jointly with my partners from LA and London. It was my pleasure to work for the first time with Andy Paley, a great songwriter based in LA who arranged and produced two songs - "The Game" and "Reaching for the Moon". I am also happy to have worked with the remarkable London-based vocalist Alaena Adams. Alaena co-wrote and sang another song on the album, a piece called "Dancing in the Wind," which features the beautiful combination of piano and her enchanting voice.
In an Instrumental Mood. This album contains all my instrumental work outside the Latin, Pop, and Lounge genres of my other releases. While these songs may feature different styles, I believe they still reflect my approach to melodic development and musical romanticism. Here again, as on many other albums, Sergey Yerokhin has done a great job. The song "Requiem" was particularly challenging for us and reflects many hours of work to get just the right sound.
On my way from Brazil. My lifelong love affair with Brazilian music has inspired me to write several new song in the bossa nova style. I am particularly pround of one of the songs, "Yemanja", on which I collaborated with Roberto Menescal, one of the best musicians in modern Brazil. Our collaboration was made possible thanks to Bernardo Bittencourt, a manager at Albatroz Music, who works closely with Roberto.
In Black and White. This unfinished album is my attempt to gather together all of my compositions for piano. I perform my own music in most of the songs, but on "All we had" and "Searching for a Solution", I invited the well-known Russian pianist and arranger Mikhail Link to perform with me. Mikhail has worked with many icons of Russian and world music.
I hope that you will enjoy my work and that you will leave your comments below. I invite any artists or lyricists who are inspired by my music to contact me to discuss possible collaboration.
If you'd like to stay in touch, please leave me your email and I'll keep you posted on my new music.
Oleg Tumanov